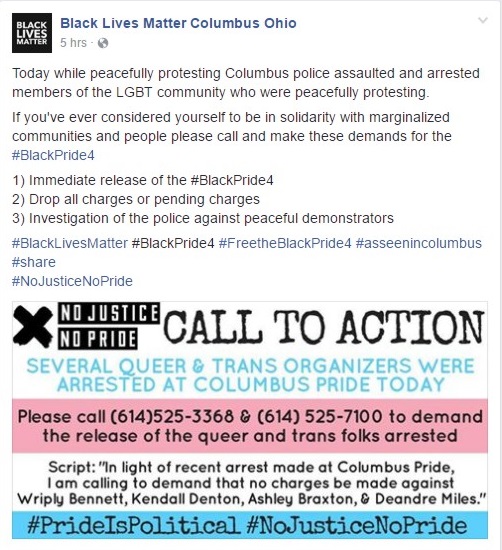 Marxists call this "the revolution within the revolution." At Evergreen, the radical left-wing students are waging a campaign of harassment against their left-wing professors. Last weekend scores of leftists, including Black Lives Matter, Antifa, and Socialist Alternative disrupted an annual gay pride parade in Washington DC.
Today, Black Lives Matter attempted to disrupt the annual Stonewall Gay Pride Parade in Columbus, Ohio.
The Columbus police say they received a tip that people were preparing to block part of the parade route. When police arrived on bicycles they encountered members of Black Lives Matter blocking the road with their arms linked. They were ordered to clear the road. Instead, the crowd fought with police while hysterically screaming "black lives matter." Police officers were forced to use mace.
Police say that four officers were injured, including one who was taken to the hospital with an ACL injury. One of the perps tried to take a gun from a female officer. He has been charged with aggravated robbery.
The other three have been given charges that include resisting arrest while causing harm to a police officer, failure to comply, and disorderly conduct that hinders movement. The people arrested are three black males and a black female. The local Columbus, Ohio Black Lives Matter group is calling them the "BlackPride4."
After the parade, a group of, mostly white, leftists showed up at the Franklin County jail to protest the arrests.
Some local media outlets completely censored who was behind the attack on police. They simply reported that a group of people blocked the road and then fought with police.